Taken from History of the Allegheny Evangelical Lutheran Synod" published in 1918 by Lutheran Publication Society, Philadelphia, Pennsylvania.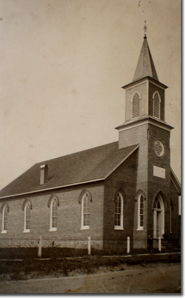 Occasional services were held here beginning 1846, when the Schellsburg charge was formed. Reverend Kast began regular services in 1852. A church building was agitated but not begun until 1853. The deed for a lot, sixty by one hundred sixty feet, was granted by John and Catherine Leighty to Conrad Ickes and Fredrick Michtley, trustees, on June 25, 1853 for thirty dollars. The church, a frame building, thirty two by forty feet, costing eight hundred dollars, was dedicated in November, and a congregation was organized that same day. This church was used until 1886. It belonged to the St. Clairsville charge from 1865 until 1869.
At a congregational meeting held on January 1, 1882, the following committee was appointed to seek a location for a new church, viz: Adam Ickes, N. H. Wright. Samuel Wright, D. W. Prosser and George Stufft. An article of agreement was made April 1, 1882, for the present lot between Austin Wright, owner and the following council: Austin Wright, Isaac Wright, Adam Ickes, Samuel Whittaker (deacons) and H. N. Wright (elder). The sum was two hundred dollars and the deed conveyed on May 20. The cornerstone was bid on July 18, 1886 with J.M. Rice assisting the pastor, Reverend Gruver. At the dedication on February 2, 1887, Reverend W. W. Criley of Altoona preached, and also Reverend Rice of St. Clairsville.
The building is brick. thirtysix by sixtyfour feet including the spire and the pulpit recess. The windows are cathedral, stained glass and memorial. The cost was four thousand dollars, a fourth of which was raised the day of the dedication.
List of items put in the cornerstone on July 18, 1886:
Books
Copy of the Bible
Luther's Small Catechism
Papers
Lutheran Observer, April. 1853, July 16, 1886
Bedford Gazette, July 16, 1886
Republican & Inquirer, July 16, 1886
German Papers, 1853
The Missionary, May 1853
Lutheran Standard, April 16, 1853
Amendment Herald, April 1886
Lutheran Missionary Journal, July 1886
Form of the Constitution for Women Missionary Society Lutheran Almanac, 1886
History of the Congregation, May 1853
Grand Army Gazette, April 1886
Minutes of Allegheny Synod 1885
Sketch of congregation from 1853 to the present with acct of beginning of building
Officers of Budding Committee, list of contributors
List of members, sketch of Sabbath School, list of names of present Sabbath School scholars, teachers and officers
Augsburg Teachers, Augsburg Lesson Book, Junior Lesson Book, the little ones, Lutheran S. S. Herald
Officers of Pleasantville Borough and map of the town
Coins
10 cents ,5 cents, and 3 cents(dated 1834,1837, and 1853)
Continued history of St. James Lutheran Church (Pleasantville) from minutes of council meetings down through the years.
July 26, 1879 – We have written on the subject of the need for a new church building. Subject was dismissed for the present.
March 5. 1882 – Subject of a new building was again discussed and a committee formed to look for a suitable site. Three lots were considered but the present site offered by Austin Wright 'agreed on unanimously
March 19, 1882 – The congregation was notified of impending purchase and they authorized sale of old church.
Jan. 1883 – The council agreed that The Pastor Watterick should accompany the deacons to solicit subscriptions to pay for the proposed new church.
Jan. 16, 1886 – Congregational meeting for purpose as to whether the congregation should undertake erecting a new church. Motion made by B. S. Wright to build a new church after next season. Motion made by Brother D.W. Prosser to build a church of plank and brick cased with brick. Motion carried.
Jan. 30, 1886 – Brother D. W. Prosser moved to reconsider the vote to build a church of plank and casing it with brick. Motion carried unanimously. Motion to build with plank and brick lost. Brother T. J. Writ moved to bald a church with solid brick walk. Motion carried by one vote. Brother Richard Ickes moves that we bud a church without a vestibule. Carried unanimously. Resolved church, sixty feet by fifty-six feet. A committee of three appointed to make a calculation and ascertain the difference in cost between a brick and frame church. D. H. Prosser, Wm. P. Wright, and Sam Whitaker — said committee, Committee reported it would cost three hundred thirteen dollars and fifty cents more to build brick. Moved to build of brick. Building committee: Conrad Ickes, N. W. Writ, Isaac Wright, Sam Whitaker and Geo. Stufft. Sam Whittaker, Treasurer
Mar. 14, 1886 – Lime for church – Fourteen cents a bushel
Mar. 15. 1886- Building foreman . Wm. Wrghit @ one dollar and sixty five cents a day, George Siufft @ one dollar and ten cents a day. Boss (attend) masons and brick layers and "do any other work about building."
Feb. 22, 1886 – Committee purchased sixty thousand brick from McCleeland & Pheasant, Spring Meadow @ seven dollars per thousand – the run of the kiln.
Feb. 28. 1886 – Congregation unanimously agreed that the disposing of the old church be placed in the hands of the building committee.
May 5, 1886 – Commence digging the foundation May 7.
July 28. 1886 – Arrangements to start laying bricks. Pay one dollar a day to the men who attend the brick laying.
Aug 5. 1886 Committee met — paying accounts. Sam Smith two dollars. Wn Whittaker – one dollar and twenty five cents. Charles Andrews – fifty cents. Treasurer now find, he has paid out fifteen dollars over and above what he been paid in.
Oct. 26, 1886 – Sold old church to the Brethren Church for one hundred eighty-five dollars. The Lutherans kept the organ and Sabbath School book case.
Dec. 31. 1886 – Memorial window. Eighteen dollars each.
Apr. 17, 1887 – George B. Stufft died, aged thirty two years, nine months and eleven clays, one of the building committee and one of the church council. A good and true man. The first corpse carried into the new church. Funeral service conducted by Reverend L W. Watterick.
Apr.22, 1888 – Reformed Church to use our church while theirs is being repaired.
Feb. 3, 1941 – Talked about repairing church steeple. Charles Follmer agreed to build table and kitchen would be used for class rooms.
Dec. 1, 1941 – Reverend Petrae mentioned.
June 2, 1942 – Roof of the altar recess to be examined and repaired if needed.
Jan. 4, 1943 – Motion to take care of the application to General Synod for pastoral assistance motion made to discontinue night services until April.
Sept 6, 1943 – Parsonage mentioned.
May 1, 1944 – Discussed papering the church
July 10, 1944 – Ten dollars to Council of Schellsburg Church.
April 30, 1945 – Accepted bid from the Atkins paper store for one hundred thirty five dollars to paper church (labor and materials.
July 3, 1945 – Ten dollars to council of Schellsburg Lutheran Church for our share of parsonage.
Oct. 2, 1945 – Twelve dollars for trial sermon by Pastor Herizel.
Jan. 9, 1946 – Motion to buy a Parish Register in partnership with Schellsburg.
Feb. 4, 1946 – Motion to bud an altar and the necessary ornaments.
Apr. 25, 1947 – Talked about improving the, heating system.
April 29, 1948 – Contact P.D.H. concerning building of steps in front of church. Committee for shrubs.
Nov. 26, 1948 –  Bids to be gotten on stand. chairs and chandelier
Dec. 23, 1948 – Local council approves the supply pastor.
Apr. 13, 1955 –  Discussed a constitution.
May 11. 1955 – Talked about church road signs.
Oct. 14,1955 – Gave large chair to Calvary Chapel — talk of a choir
Nov. 9, 1955 –  Bulletins for church
Dec. 14, 1955 – It was decided to hold a Watch Service on New Year's Eve.
Feb. 8, 1956 – Received one hundred ten dollars from Department of Highways for front footage.
April  11, 1956 – Talked about a parking lot in back of church.
Oct. 8, 1956 – Decided to "try out" a pew before purchasing
Aug. 8, 1956 – Motion made and carried to lower walks to curb level.
Nov. 27, 1956 – Motion to accept the recommendation of the church council to work out with Schellsburg and  Dr. Putnam.
Jan. 1957 – Motion to accept the official "resolved" that this congregation petition conference to divide the Shellsburg West End charge into two charges — one to consist of Lybarger, Mt. Olive and Mt. Zion — the other, St. Matthew and St. James
May 5, 1957 – Allegheny Lutheran Pastoral charge was established. Sermon by Reverend Dr. Dwight F. Putman, President of Central Pennsylvania Synod. Composed of St. James, Alum Bank, St. Matthews, Schellsburg, Mt. Cannel, Ogletown, Reverend Hebel, installed as pastor.
Dec. 11, 1957 – Paid for furnace, eight hundred forty nine dollars and eighty three cents.
Oct.8, 1958 – Special council meething to discuss sidewalks — installed and paid for by young people's class – donations of time and materials and the men of the council.
Jan.1959 – Decided to buy new hymnals. Two hundred seventy dollars donation.
June3, 1959 – Bert Netrour was given permission to take outside toilet (so we must have had indoor restroom completed)
June 1, 1960 – Mentioned to continue the bulletins if Schellsburg agrees.
June 8, 1961 – Motion to finish rest room and let old log remain rather than put in new one.
Dec. 6, 1961 – Authority was given to draw one hundred ninety eight dollars from a trust fund to help with the full payment of new carpet.
Dec. 2, 1964 – John Wissinger is authorized to oversee the completion of a new well and water system
Dec.2, 1970 – Lay minister, Raymond Wissinger resigned.
April 17, 1971 – Will try to get an intern for summer.
Feb. 7, 1973 – Organ bought
Apr. 4, 1973 – Motion to get Clyde Deremer to paint inside of church.
Feb. 6, 1974 – Approved to buy a new scarf for the alter
July 3, 1974 – Typewriter bought for one hundred dollars
June 9, 1975 – Summer supply, Nelson llgenfritz.
Jan. 28, 1976 – Robert Lescohete helped at Vesper service.
Apr. 25, 1976 – Two hundred dollar tap in fee for water.
Oct. 6, 1976 – Wine and common bat to be used for communion — Mike Holhmberg is intern — no constitution can be found, new one will be written.
May 31, 1977 – Constitution concluded
Sept. 7, 1977 – Win Miller, hired intern
Feb. 1, 1978 – Incorporation of congregation was worked on by attorney – Discussed purchasing a mobile home for intern's use.
April 16, 1978 – Synod approved a loan to us for four thousand six hundred dollars for mobile home.
Sept. 6, 1978 –Don Hake, hired intern
Nov. 9, 1978 – Roger Bucy's four churches (councils) gave their approval for St. James to join their parish.
June, 1979 – Mike Moss hired intern starting in September
Feb. 6, 1980 – Discussed putting a lock on the basement door
Mar. 6, 1980 – Basement partition will be removed for more even heat.
Jan. 7, 1981 –  Emily Styer, hired Intern
Sept. 10. 1981 –  Diane Guinther, hired intern
Nov. 15, 1981 – Voted to join the St. Clairsville Parish
Dec.20, 1981 – Congregation voted on sister Emily as pastor
Oct. 6, 1982 – Fans, insulation, and wiring bought.
Nov. 3, 1982 – Furnace Installed
Nov. 3, 1982 – Ladies Group Formed
Nov. 14, 1982 – Pat Harrington hired as supply Pastor
June 1, 1983 – Donna Kyllonen hired as supply Pastor
June 6, 1984 – Blue Paramounts are made by ladies group – motion made to begin outside basement steps.
Sept. 5, 1984 – Alb for acolyte will be purchased
Dec. 7. 1985 – Organ bought from Trinity